QR Links
Sensor Inset
The SmarTracks sensor inset is used to securely place a DX sensor in a pocket of tight sports trousers. The pocket needs to be at the back center of the trousers, so that the DX sensor can be placed in line with the spine.
What do you need?
Tight sports trousers with central back pocket
Inset
Inset sticker
DX sensor
Pair of scissors
Measuring tape for measuring the size of your sports trousers pocket
Instructions:
Use a pair of scissors to cut away the outer white edge of the inset sticker
Cut away the inner small rectangle which has the QR code and the washing instructions on it
Remove the sticker film
Stick the sticker on the inset so that the yellow SmarTracks/Smart rectangle fits into the small rectangle that you just cut out of the sticker
Measure the length and width of the trouser pocket in which you will place the sensor
NOTE: The yellow SmarTracks/Smart rectangle should be on the upper side of the trouser pocket, facing outward
Mark the length and width on the inset sticker and cut the inset in the right size so it fits snuggly in the trouser pocket
If necessary, cut away any corners so that the inset matches the shape of the trouser pocket
NOTE: Always make sure to have the yellow SmarTracks/Smart rectangle in the middle
Remove the sticker from the inset
Place the sensor in the inset
NOTE: Make sure the black cap points upwards and the Humotion logo is facing outward when placed in the trousers
Place the inset with sensor in the trouser pocket
Your sensor should now be securely placed in your sports trousers just above hip height (L4/L5), aligning with your spine
You're good to go!
If you have any further questions, feel free to contact us!
Mobile Gate MCD Insertion / Removal
MCD Insertion
To inset the MCD, push the MCD down into the middle of the cone.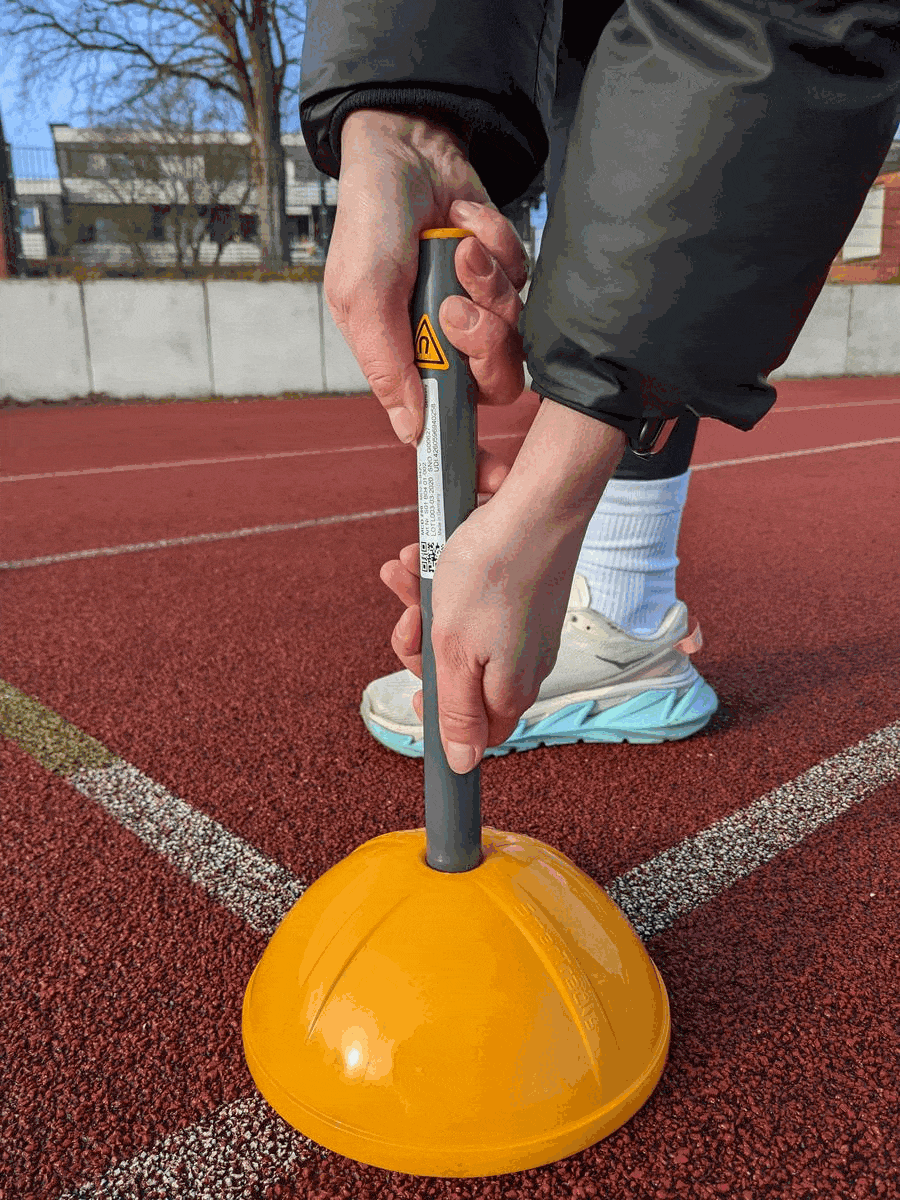 MCD Removal
To remove the MCD, put your foot on the cone and pull the MCD out.