Tests you can do with this set
Sprint tests
Jump tests (Squat Jump, Drop Jump, Countermovement Jump)
Tappings Test
Agility Tests (Illinois Agility Test, Three Cone Drill, 5-10-5 Shuttle, Arrowhead Agility Test, Custom Agility Test)
Cooper Test
Running analysis incl. running time, intermediate times, running distance, step frequency, number of steps, step length, and speed
Product Details
The SmarTracks Diagnostics Mobile Set (DX3.5) includes:
DX3.5 Diagnostics sensor
Sensor clip to attach the DX3.5 sensor to the MB60 Belt
MB60 Belt (size XS-S)
MB60 Belt (size M-L)
SmarTracks Diagnostics PC software (single user license, for Windows 10 or higher)
4 Timing Gates (8x MCDs, 8x cones)
2 angle holders to create angled Timing Gates
Measuring tape
Transportation case
USB 2.0 A-Extension (2m)
Contact us for more information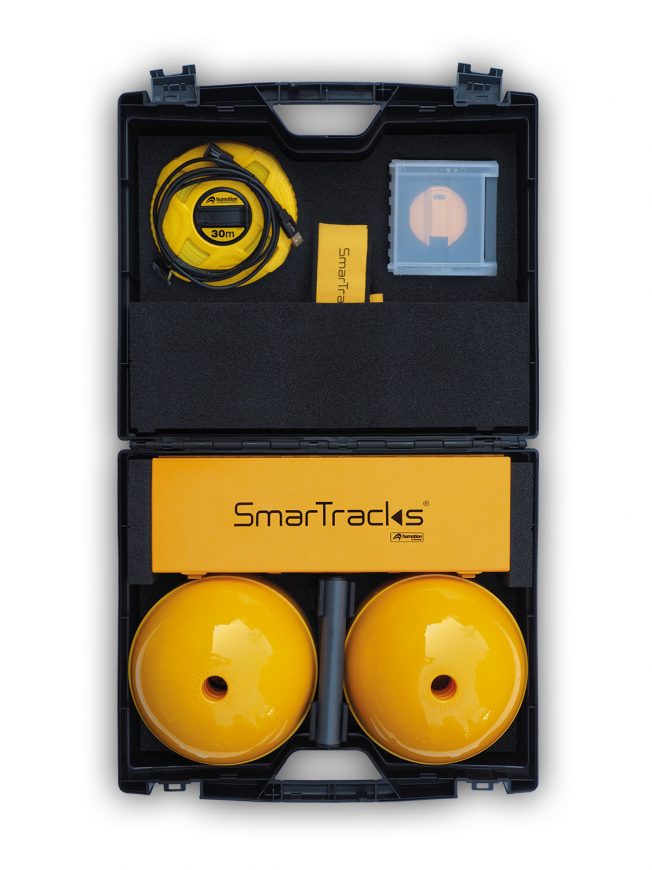 Video tutorial on how to measure a sprint with SmarTracks Diagnostics
FAQ
How many split distances can I set up?

With 4 Timing Gates you can set up a standard of 3 split distances (one Timing Gate at the start, one at the end, and two in between). However, with the Diagnostics system, you can also choose to leave out the gate at the start. You can then select 'Force Explosion' in the software as your starting point, which means the sensor picks up the start from your movement. This way, you have an extra gate at your disposal for split distances.

What size belt to I need?

The SmarTracks Diagnostics Mobile Set comes with two belts.
The XS-S is suitable for waist size: approx. 52cm – 75cm.
The M-L is suitable for waits size: approx. 71cm – 110cm.

Can I use the DX3.5 sensor with my smartphone?

No, the DX3.5 sensor can only be used with the SmarTracks Diagnostics PC software for Windows.
If you want to make use of both the SmarTracks Diagnostics software and the Smart Run smartphone app, you need a DX5.0 Diagnostics sensor. This is included in the SmarTracks Diagnostics Mobile Set (DX5.0).